BOGO, baby!
All CDs, even our 2-CD sets, are buy-one-get-one free. CDs are $15 each (you will be asked at Check Out to choose your free CD). Individual songs, delivered via email in MP3 format after receipt of the order, may be purchased for just $1 each (please be patient and do not submit your order multiple times; we will email your MP3 single as soon as the processed order shows in our inbox).
Blue Moon Big Band has recorded seven albums as well as the solo recording from Teresa Leonard. When you buy big band music from us, you get a long list of songs, both classic and contemporary. Click on the hyperlinks for each song for a sample recording! You can also head over to our See Us Swing! page to learn when and where you can see us live.
All the Cats Join In (2018 Studio)
Our 20th-anniversary album offers 20 songs that are sure to get you swingin' all night long. This album has something for everyone. There are classics like Glenn Miller's "Tuxedo Junction," the title track from Peggy Lee and the Rodgers and Hart signature hit "Blue Moon." The CD also has big band arrangements of more contemporary chart-toppers like Marvin Gaye's "How Sweet It Is" and Van Morrision's "Moondance." We even venture into the dark side with an offering from the songbook of Barry Manilow!
1. All The Cats Join In (2:13)
3. I Could Write a Book (2:31)
4. It Had Better Be Tonight (3:05)
5. Tuxedo Junction (3:26)
7. My One and Only (3:38)
8. I Love Being Here With You (2:43)
11. Call Me Irresponsible (3:20)
12. (Tell Me) Quando, Quando, Quando (4:49)
14. Me and Mrs. Jones (4:42)
16. Song of the Volga Boatmen (3:48)
17. I Was a Fool to Let You Go (3:16)
18. How Sweet It Is (2:57)
Caught in the Act (2008 Live – 2-CD Set): 10th Anniversary Celebration Live at Naylor Wine Cellars
There are a whopping 34 songs (nearly 2 and a half hours of live entertainment) on this double CD set. Music from the libraries of Frank Sinatra, Michael Buble, Jo Stafford, Nat King Cole, Harry Connick Jr., Glenn Miller, Benny Goodman; the list goes on and on. The second disc also includes a bonus studio track from featured vocalist, Teresa Leonard.
The Polar Bear's Pajamas (2007 Studio)
Our fifth CD has 15 songs, including cuts from the libraries of Count Basie, Peggy Lee, Dean Martin, Frank Sinatra, Benny Goodman, Ella Fitzgerald, and more.
10. 88 Basie Street (6:55)
15. Sing Sing Sing (5:47)
The Child in Me (Teresa Leonard, 2004 Studio)
Teresa's CD is comprised of 18 songs with a mix of light jazz, standards, and ballads. It is the perfect CD for lullabies or for sitting by the fire with a glass of wine. Recorded in 2004 after the birth of her daughter Emma, this album includes a 16-page booklet that tells the story of a mother's love for her miracle child. It is a "must have" recording for every parent.
1. "A" You're Adorable (3:34)
2. On the Sunny Side of the Street (3:31)
3. Accentuate the Positive (2:29)
5. Swinging on a Star (3:00)
6. Child in Me Again (3:55)
7. When You Wish Upon a Star (4:08)
9. A Dream is a Wish Your Heart Makes(2:23)
11. An Old Irish Blessing (2:43)
12. Babies & Angels (a song for Emma) (4:07)
16. Child of Wonder (2:18)
17. Anything Can Happen (4:09)
18. Far Away Places (5:08)
Baby, It's Cold Outside (2003 Studio – 2-CD Set)
These holiday hits are available year 'round. Even though there's way too much music to fit onto one CD, we've still made the collection available at a low price. Just $17 plus shipping and handling gets you 31 songs from Blue Moon Big Band and its partner jazz ensemble, Li'l Bit of Blue.
1. There's No Place Like Home for the Holidays (2:14)
9. Mary, Did You Know? (4:15)
13. Do You Hear What I Hear? (6:45)
14. We Wish You a Merry Christmas (3:28)
3. A Child is Born -- What Child is This? (6:05)
8. The Little Drummer Boy (6:32)
11. Hark! The Herald Angels Sing (3:21)
13. God Rest Ye, Merry Gentlemen (3:51)
15. Have Yourself a Merry Little Christmas (5:34)
Nice Work if You Can Get It (2001 Studio)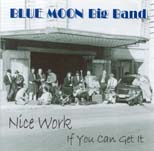 Loaded with 20 songs in one package, this CD is sure to get you groovin'. There's the Gershwin title song, plus Glenn Miller, Benny Goodman, Glen Gray and the Cosa Loma Orchestra, Nat King Cole, Bobby Darin, Peggy Lee, Benny Moten, and more.
Swingin' Live! (1999 Live)
Contains nearly 70 minutes of live '40s and '90s big band and swing dance charts. The 18-song collection comprises tunes from the libraries of Glenn Miller, Duke Ellington, Benny Goodman, Artie Shaw, Big Bad Voodoo Daddy, Cherry Poppin' Daddies, Brian Setzer, and more! This album is no longer available for purchase. However, singles may be purchased for just $1 each.
Things Ain't What They Used to Be (1998 Studio)
Our 1998 studio recording, offers 16 songs including the Mercer Ellington title cut. You'll find nearly 60 minutes of great swing classics, red-hot ballads, and a few performance and jazz charts you don't hear much anymore. This album is no longer available for purchase. However, singles may be purchased for just $1 each.
Full CD (Add to Cart):
The Blue Moon Big Band Embroidered Logo
For only $19.95 plus shipping, we will have our high-quality logo embroidered on your existing clothing items. Shirts, jackets, sweatpants, you name it (within reason; our vendor may reject older or worn clothing). You send the clothing to us, and we add our logo to make it a one-of-a-kind item. Then, we ship it back to you. It's really that easy.