Meet the Band
Blue Moon Big Band wouldn't be what it is without our musicians. Rob Leonard and the other cool cats are the reason we're still swingin' after more than 20 years. Check us out by reading the bios below, and head over to our history page to learn more.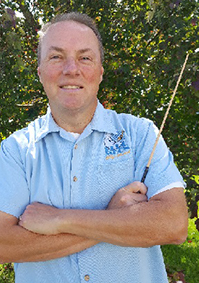 Rob Leonard: Bandleader
Rob Leonard and wife Teresa started Blue Moon Big Band in 1998. His favorite big band is the Glenn Miller Orchestra, claiming actor Jimmy Stewart's "The Glenn Miller Story" as one of his all-time favorite movies. Rob sometimes sits in with the trumpet section, but spends most of his time in front of the band, handling the marketing, management, and public relations responsibilities.
Among Rob's most memorable musical experiences is his and Teresa's wedding reception, when the band played at the Valencia Ballroom in York, PA, on the same stage where Glenn Miller, the Dorseys, Harry James, and other big band greats played during the 1930s and '40s. In fact, it was the same venue where Miller informed his band in 1937, on New Year's Eve, that he was disbanding (he of course re-formed the Glenn Miller Orchestra months later, once he found "that sound"). A close second was Blue Moon's New York City debut at the Swing 46 Jazz & Supper Club in November 2002. However, he'll admit that having Blue Moon Big Band cast as Kevin Bacon's band in the movie "My One and Only" was pretty cool, too.
When asked what's awesome about being part of Blue Moon Big Band, Rob will tell you that it's amazing to have so many great musicians doing this just because they love the music so much. Rob has a Ph.D. in Applied Management & Decision Sciences, with a specialization in Leadership and Organizational Change.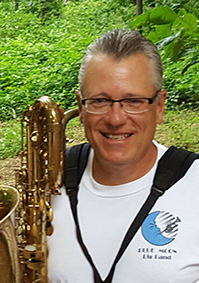 As one of the band's first members, Chris has played bari sax, lead and second tenor, lead and second alto, soprano, flute, clarinet, bass clarinet, and even drums. A resident of Stewartstown, PA, Chris has also helped with studio direction on Blue Moon's CD projects and has arranged some of the band's music. His favorite song is "My Way" and he is a big Count Basie fan and Elvis Presley fanatic.
When asked why he wanted to be in a big band, Chris simply responded, "Doesn't everyone?" His greatest musical memory was soloing at the age of 13 without a clue of what he was doing--it's too easy to comment on that one. He is an orchestra director for the Maryland Summer Center for the Arts and is a graduate of Towson University, where he holds both BA and MS degrees in Music Education. Chris also serves as full-time band director at Susquehannock High School in PA.
* Band member since 1998
John lives in Baltimore, MD. He has played both lead and second alto with the band (and he says he "has" a flute and clarinet but is still working on mastering them). His favorite song is Eubie Blake's "Memories of You" and he likes the Duke Ellington Orchestra. John enjoys the opportunity to make some "big music" in a great sax section.
He recalls playing a "really cool" saxophone and flute duet in an 11th grade music contest as one of his most memorable music experiences. John is an Engineer with the Johns Hopkins University Applied Physics Laboratory in Maryland.
* Band member since 1998
Eric has been playing saxophone for over 20 years (and looks like he started at age 2). Originally inspired by his uncle, saxophonist Neil Wetzel, Director of Jazz Studies at Moravian College in Bethlehem, PA, Eric also studied with Mike Trach, Nelson Hill (protégé of Phil Woods), and Ron Bridgewater. He has performed in both the US and Europe with bands such as the Todd Rent Quartet, Miavana Latin Jazz, Mr. Joe, and the Inverted World Trio.
Eric was also musical director for Adelante, the premier salsa orchestra in Champaign, IL, while playing sax and bass for the band. In 2002, with collaborator Dan Auerbach, he released the 10-track pop CD "Better than Eggnog", followed by 2003's "Six More Weeks of Winter." Eric enjoys listening to Mingus, Kenton, Basie, and Woods. A resident of Baltimore, MD, he is employed as an engineer with the US Army.
* Band member since 2003
Joe joined Blue Moon Big Band early in 2007, just in time to be part of the band's fifth CD, "The Polar Bear's Pajamas." He's one of those guys who will quietly do his job, not miss any gigs, and subtly make you realize he's a fantastic, versatile player. With one of the sweetest tones on tenor that the band has ever had, Joe is a great section player and a fine soloist.
A resident of Sykesville, MD, Joe enjoys the music of Artie Shaw, Duke Ellington, and Don Ellis, to name a few. His favorite tune is "Jumpin' at the Woodside," which the band coincidentally recorded on its first album in 1998. He says he has enjoyed big band music since first hearing it in his early teens and feels fortunate to be able to play it now. Among Joe's greatest memories is climbing Pike's Peak and enjoying the snowfall in July 2007. During the day, Joe teaches band and orchestra for the Carroll County Maryland School System.
* Band member since 2007
Kate joined the band in 2001 as Katie Haines (a stage name if ever we heard one). After 10 years with the group, she married and took some time off to start a family. In 2017, Kate rejoined Blue Moon Big Band and picked up right where she left off. With a sultry, sweet tone on tenor sax, "Katie" remains a fan favorite. She says, "I love swingin' with great musicians" and recalls performing with the US Navy Band as one of her best musical memories. Katie is a big Stan Kenton fan and her favorite song is the Sinatra/Basie version of "Fly Me to the Moon."
* Band member since 2001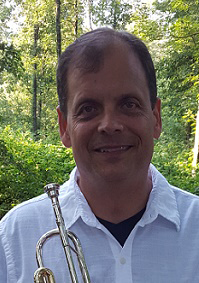 Scott lives in Reisterstown, MD. His favorite big band is the Duke Ellington Orchestra, but his favorite song is Harry Connick, Jr.'s "Just Kiss Me." Scott has been the band's lead trumpet player since its inception in 1998 and brings a tremendous local following to the band.
It would be unusual for the band to not get a request to hear Scott's signature rendition of "Over the Rainbow" at any given performance, which Blue Moon Big Band recorded on its first album, Things Ain't What They Used to Be, in 1998. He is a Multi-Media Service Technician with Verizon in Maryland.
* Band member since 1998
Mark is a classic jazz trumpeter, citing a performance with Leroy Jones in New Orleans to be one of his best musical memories. He is the consummate soloist, always being ready to add flare to an improv line. He is a huge fan of Harry Connick, Jr. but admits there are just too many great songs to list one as a favorite.
* Band member since 1998
Jorge officially joined Blue Moon in 2010 after subbing with the band for a few years. A confident and creative soloist, Jorge is proud to be part of American history that, as he notes, should be kept alive from generation to generation. Among his best musical memories is performing with the Baltimore Symphony as a "young artist" semi-finalist. Jorge is self-employed as a musician and producer, and he claims The Thad Jones & Mel Lewis Orchestra (now known as the Vanguard Jazz Orchestra since the death of Mel Lewis in 1990) as his favorite big band.
* Band member since 2011
After sitting in with the band on occasion for about a year, Don officially joined the group in 2013. A versatile player, he takes on any part needed by the section, showcasing exceptional, creative solos or settling in for a supporting role. Although he is a big fan of Duke Ellington, Don's favorite songs include just about anything that has Clifford Brown playing.
He has played in big bands since the age of 9 and has been a military musician for more than 30 years. Don has studied with Blue Mitchell and Clark Terry and believes that playing in a swinging big band is where he belongs. Don is a Disability Ratings Specialist with Veterans Affairs.
* Band member since 2012
Chris is a resident of Odenton, MD, and is a big fan of the Buddy Rich Big Band. His favorite song is "Tribute to Art Fern." If you ask Chris why he wants to play in a big band, he'll simply reply, "To swing, baby...what else is there?" His best musical memory is playing in a college band with Dizzy Gillespie as a featured soloist. Chris also serves his country and the state of Maryland through the National Guard. He leads a group of security testing engineers for the US Department of Defense.
* Band member since 1999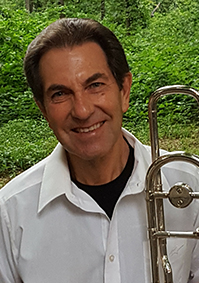 A resident of Baltimore, MD, Bernie is self-employed as both a musician and a REALTOR®. Although he currently plays tenor trombone with Blue Moon, Bernie is recognized as one of the best bass bone players in the area. His favorite female vocalist is Nancy Wilson, and he recalls his best musical memory to be when Nancy sat in with his band, The Admirals, in San Juan.
Bernie likes the music of Stan Kenton, Count Basie and Gordon Goodwin. He proudly notes that he is the oldest member of Blue Moon Big Band and says that the best part of being in a full-sized swing orchestra is that there are more people to point to when he misses a note.
* Band member since 2000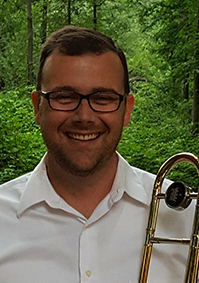 Charlie joined the Blue Moon trombone section in the summer of 2011 as its lead player. A fine soloist and great section leader, he gives the band flexibility to add trombone features to its repertoire that had previously been sitting on the shelf for years.
Among Charlie's best musical memories is the time he played on stage with Sean Jones and Mike Tomaro for a Christmas concert. A big Count Basie fan, he has been a big band enthusiast since he was very young. Charlie's favorite song is "Darn That Dream," and he teaches in the Montgomery County School system in Maryland.
* Band member since 2011
John's bio forthcoming.
* Band member since 2015
Kevin has been playing with Blue Moon since 2003. A steady bass player, he is also an exceptional trombonist and vocalist. He enjoys the music of Miles Davis and Bob James, and references "So What" as his favorite song.
"There is a lot of power and excitement in a big band," says Kevin. "I enjoy being part of the driving force--the rhythm section--behind it." Among his best musical memories is singing Mahler's 8th Symphony with the Baltimore Symphony Chorus and Orchestra. By day, Kevin works for the Baltimore County Public School System as an Instrumental Music Teacher. He lives in Nottingham, MD.
* Band member since 2003
Anthony's day job is Professor of Music at Loyola University Maryland, but when he is with Blue Moon Big Band he enjoys - in his own words - "being part of that big, beautiful sound of an authentic swing orchestra!" A humble musician, Dr. Villa simply says his best musical memories are anytime he can play for his family.
* Band member since 2014
Jim was "discovered" by bandleader Rob Leonard at a 2017 holiday concert where he stood out as a true star at another big band's performance. The way he complimented the rhythm section and supported the vocalist was all we needed to hear to know he just had to be part of our 20th Anniversary celebrations in 2018. After a few jobs with the band, Jim joined Blue Moon on its 7th CD, "All The Cats Join In," and the rest is history! Jim is a self-employed musician/teacher and loves the Stan Kenton Orchestra, citing his favorite song as Poinciana. He says he loves playing in a large ensemble but is also a clear stand-out in a small setting, such as when he plays with Li'l Bit of Blue.
* Band member since 2017
In Memorium: Marty, the drummer for Blue Moon Big Band from 2000-2015, left this world too soon on April 30, 2015. He remains a part of our family, and will be remembered as an exceptional musician, exemplary instructor, passionate musician, beloved father, devoted husband, and dear friend.
Formerly of Crofton, MD, Marty was a big Count Basie fan. He studied at the Shenandoah Conservatory of Music, and along the way discovered major influences such as Gary Burton, Chick Corea, Andy Narrell, Buddy Rich, and Jack Dejohnette. Marty recalled playing with guitarist Larry Carlton at a sales meeting as one of his greatest musical memories, and claimed that, as a drummer, it was a blast to "kick" a big band.
He was a tremendous factor in introducing new music to the band, primarily jazz and Latin-infused charts. He is remembered as one of the finest jazz and Latin drummers in the region. Marty also founded Big Band Caliente and the Marty Knepp Trio, and was a driving force in several other musical entities. "Peace and groove to you all."
* Band member 2000-2015
Teresa lives in Taneytown, MD. Teresa's favorite big band is (who else) Blue Moon, and her favorite song is "In the Wee Small Hours of the Morning," which the band recorded on its sixth album, Blue Moon Big Band Caught in the Act: 10th Anniversary Celebration Live at Naylor Wine Cellars. She has been singing just about all her life, and always dreamed of being part of the timeless magic that can only be found listening to a great big band.
In addition to singing on each of Blue Moon's seven CDs, Teresa has also been contracted for several regional radio jingles and is often requested as a guest vocalist in other area bands. Her debut solo recording, The Child in Me, was released in December 2004, and has registered full album and single sales in 6 countries. She works as a Project Manager at Ultimate Kronos Group. If you ask her, she'll tell you that she has an incredibly adorable daughter.
* Band member since 1998
Michael has been singing with Blue Moon Big Band since 2000 and has recorded on our "Nice Work if You Can Get It" (2001), "Baby, It's Cold Outside" (2003), "The Polar Bear's Pajamas" (2007), "Caught in the Act" (2008) and "All The Cats Join In" (2018) albums. Originally a Jersey boy, Mike lives in Hanover, PA, and has loved big band music since he was young. In fact, his father was a big band drummer and his mother was a big band vocalist.
In addition to singing, Mike is an exceptional drummer and has his own classic rock band in PA. At times, he has played drums with Blue Moon as well, and even trumpet on a few gigs. It's hard to pin Mike down for an all-time favorite musical memory; in true Mike fashion, he'll simply say, "It's all good!" Mike is a retired band and orchestra director from North Carroll Middle School in Hampstead, MD.
* Band member since 2000
You're welcome to learn more about us by contacting our bandleader, who is absolutely passionate about our music and commitment to excellence in carrying on the timeless music of the Great American Swing Era. Whatever it takes to earn your business, we will work hard to produce the best possible version of it.